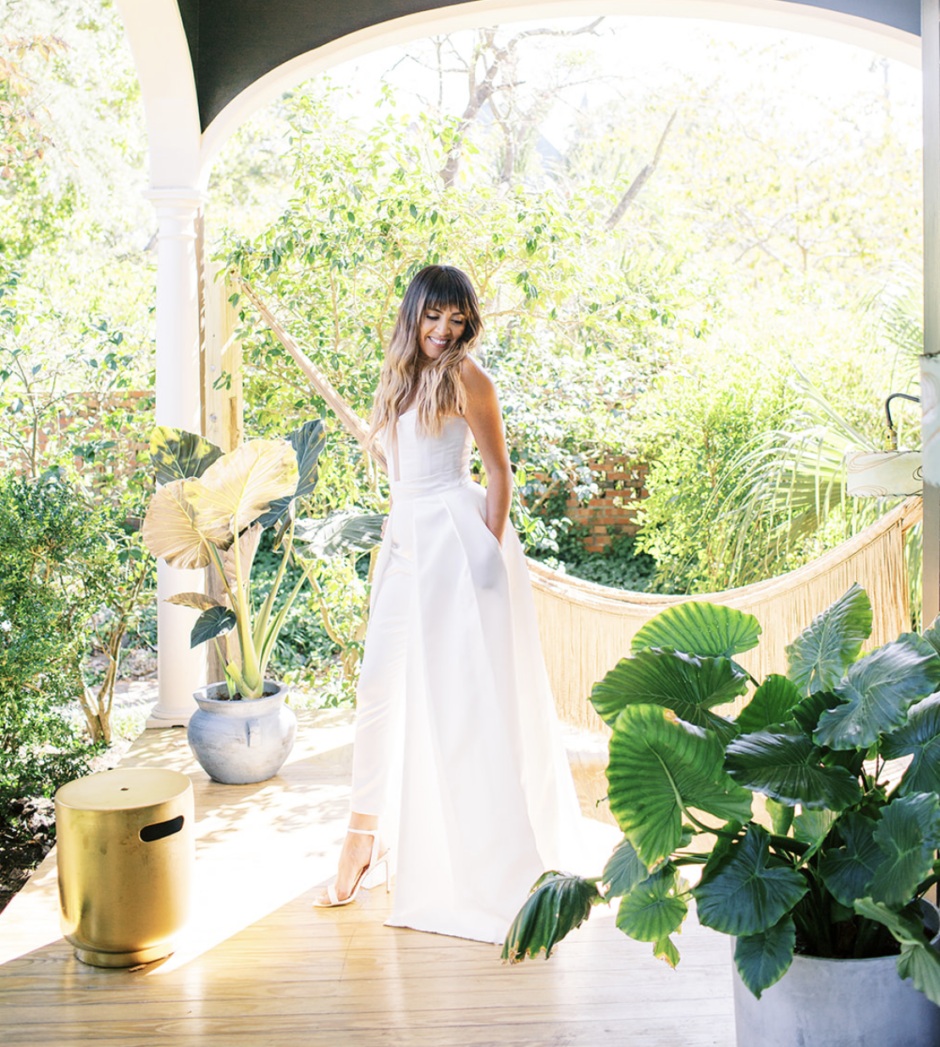 CUSTOM GOWNS, COMPLETE REDESIGNS & MORE
You can expect to meet with Marie Cordella personally and communicate directly with her throughout the entire process.
Each gown is like a sculpture. I stand back and consider every variable of the client and use that information to help hone the perfect product. ~MC
---
EUROPEAN IMPORTED FABRICS / EXHIBITED WORKS IN PROGRESS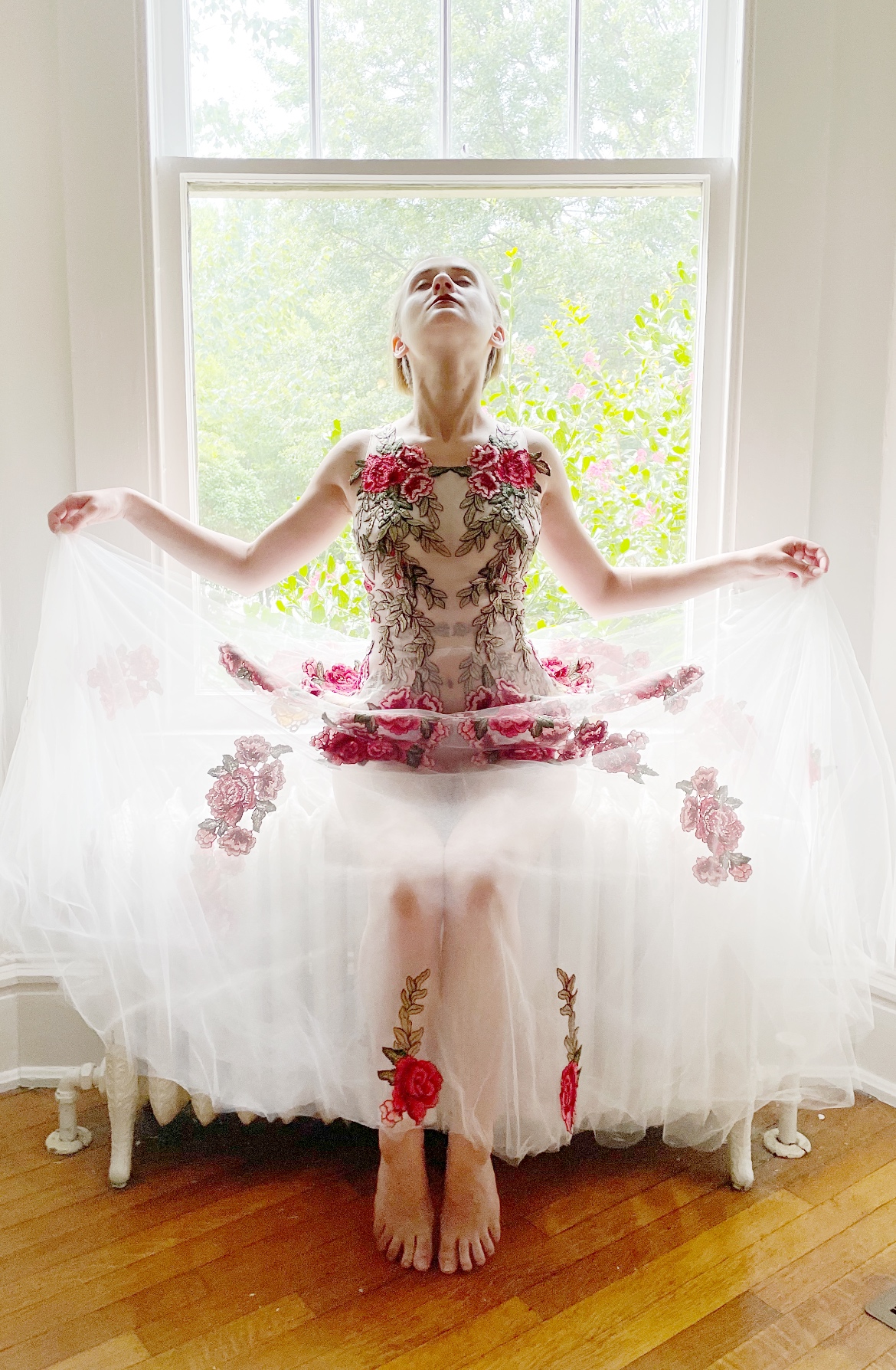 A COLLECTION IN HONOR OF THE LIFE OF CATHERINE BRADY HUTTO
Catherine was born on December 7, 1944 to the late Mary Walz Hutto and William Benjamin Hutto, Jr. in New Orleans but was raised in Charleston, SC. In the late 1960's Catherine moved to NYC to pursue her interest in fashion design and art history…..
---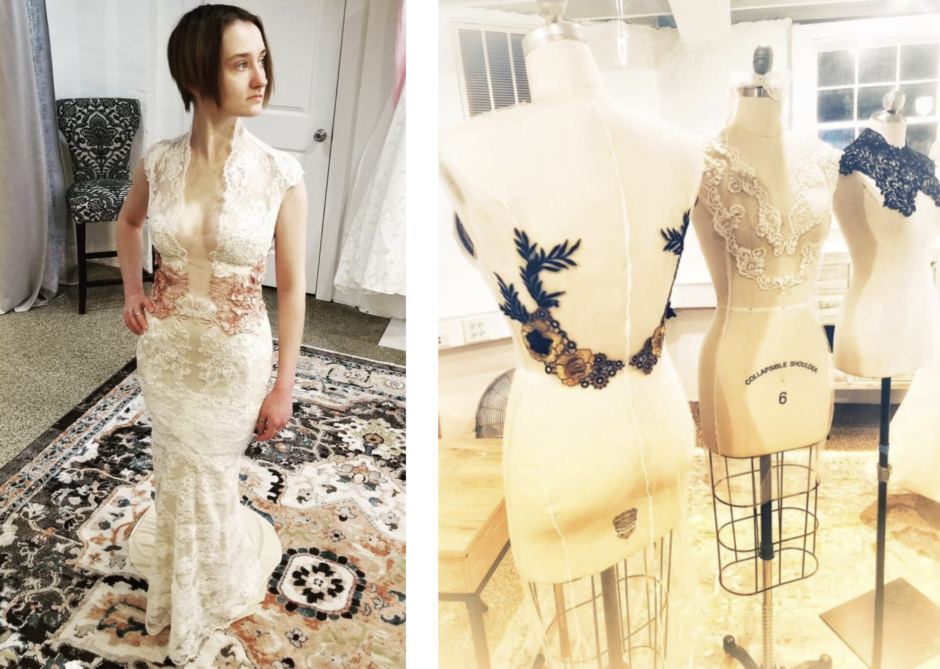 A PASSION FOR PROCESS. A LOVE OF FINE ESTATE LACE.
---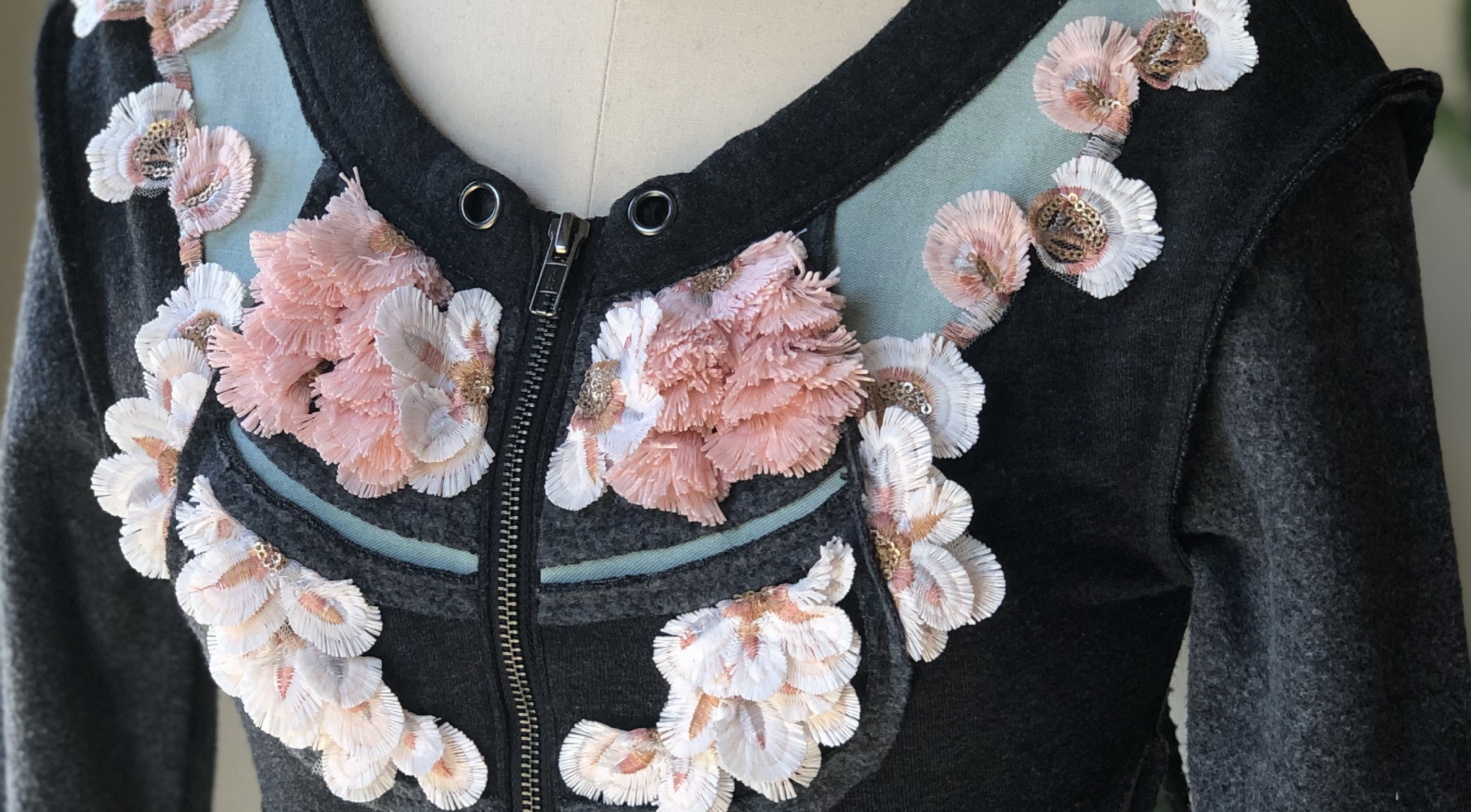 ---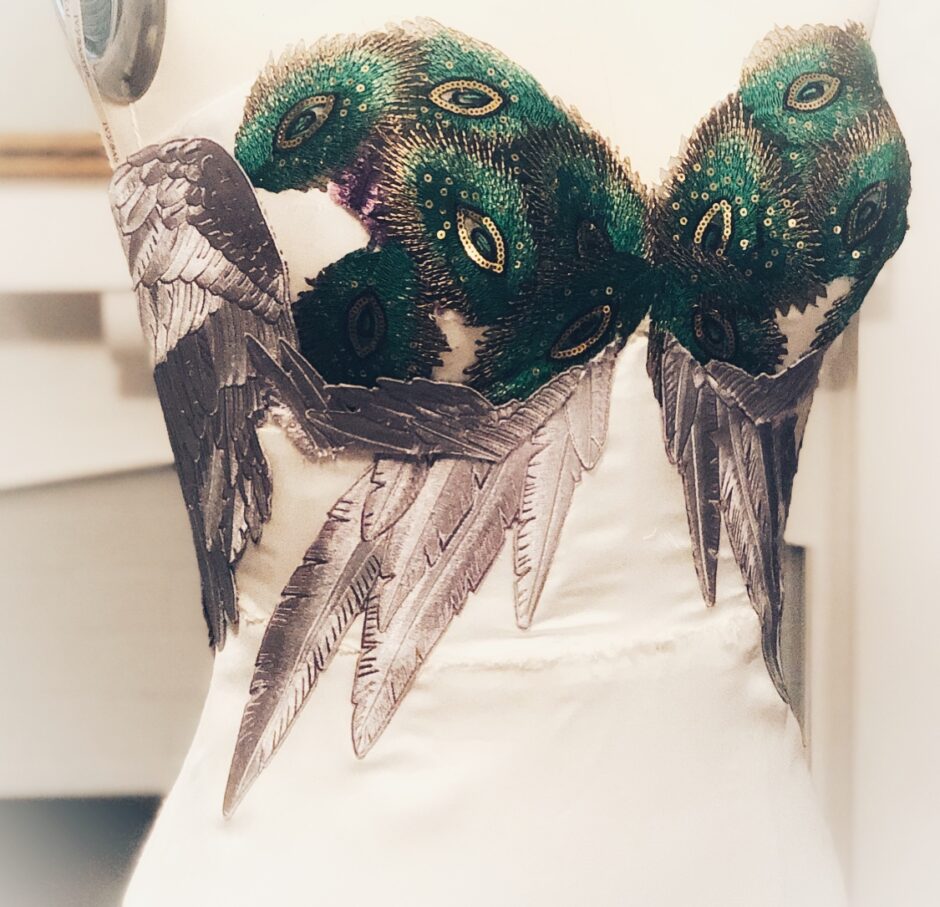 |AVIAN| ATELIER
The name Avian is of French origin. The meaning of Avian is "like a bird". Avian is generally used as a girl's name.
Constantly inspired by geometry, patterns, birds and florals – these images and illusions are pronounced in the new collection.
* This particular piece is part of the 'English Garden' Collection. It's early in the works – please check back soon for updated images.
---
WHERE DREAMS COME TRUE
---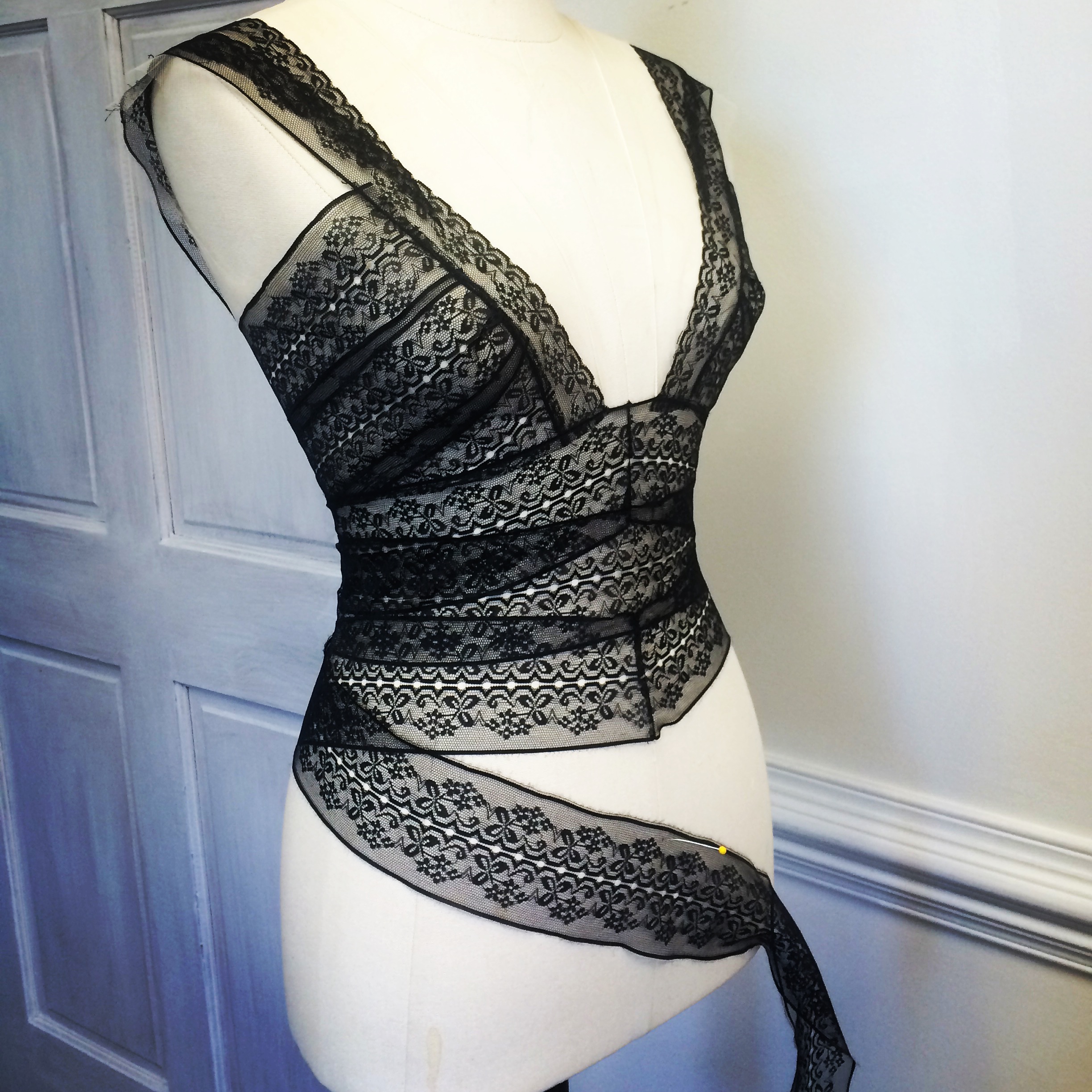 ---
ANGELINA DRESS
WONDERS OF CHILDHOOD
Featured here is piece #17 of the English Garden Collection.
Growing up I turned to the arts as my means of self-expression. Ballet, plays, architecture, literature. My mother played a large roll in these avenues of my life.

She took us to The Smithsonian almost every single weekend. We volunteered at Arena Stage in downtown D.C. as ushers so that we could see the productions. She always gifted my brother and I framed prints or originals from amazing exhibitions we were lucky enough to have seen. It has made a huge impact on me personally, as well as, how I run this business. ~MC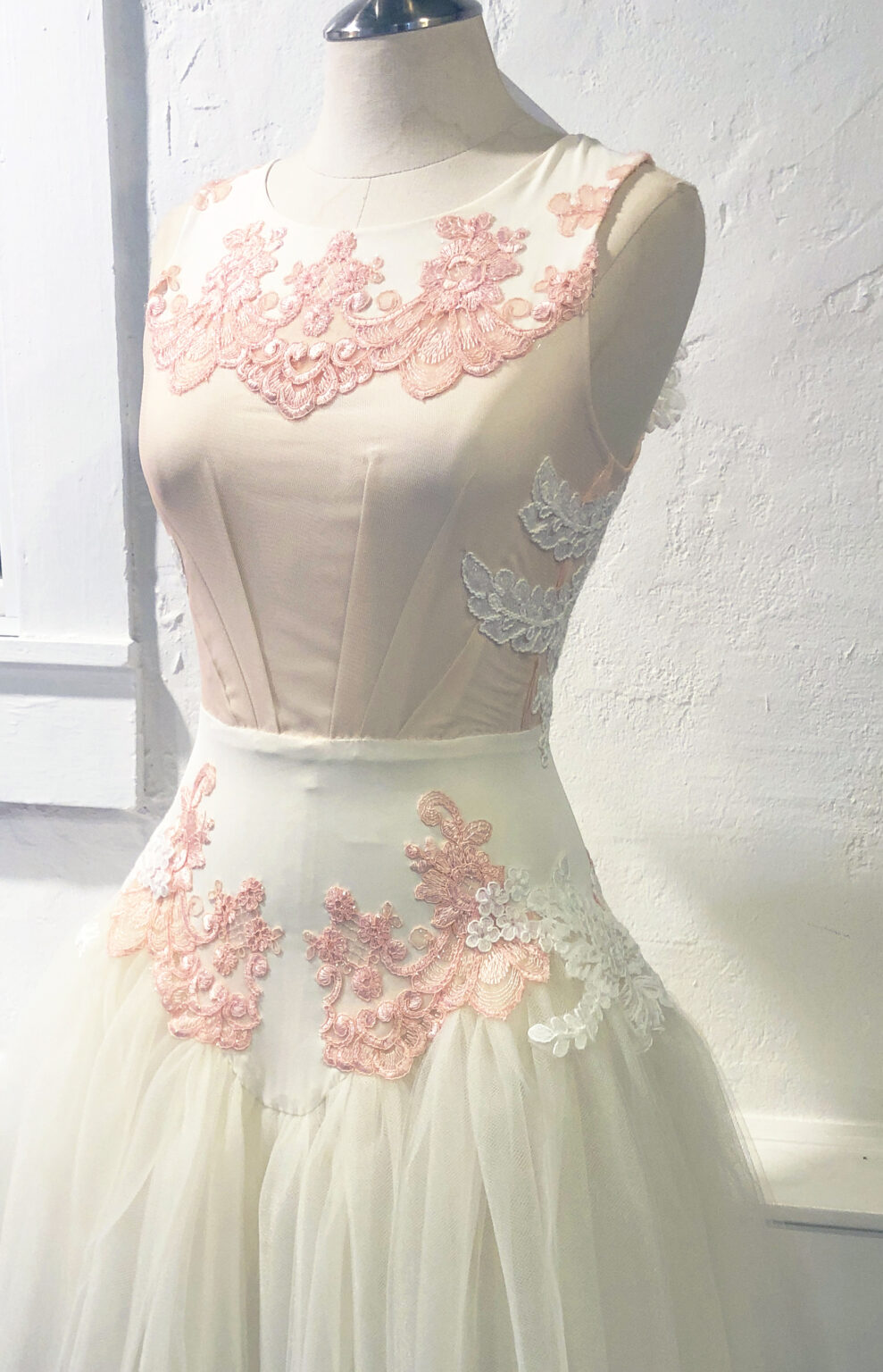 ---
MORE ON MARIE CORDELLA
M.I.D., Master of Industrial Design, NCSU, 2008 magna cum laude
Thesis: The History of Fashion – A Retrospective of the History of the Collar from the year 1200 to the Present
B.A., Graphic Design, Virginia Commonwealth University, 2005 magna cum laude
PROFESSIONAL EXPERIENCE SAMPLING
Founder / Owner, Cordella Bridal 2014-present
We make one-off luxury gowns for every and all occasions. With many fashion accolades under her belt – Owner Marie Cordella can create the look / aesthetic you want. Golden Globes, Oscar Attendees, Bridal, Mother of the bride…
Owner, MARIE CORDELLA, 2009-present
Lux dress design studio in Raleigh's premiere North Hills.
Lifetime TV Television Show: 24 hr Catwalk,
Lifetime Television Network: Episode 10, The 2024 Woman. One of four national designers selected to compete in a twenty-four hour televised fashion competition series. Each episode features four new designers who compete for that one show (similar to concept of Iron Chef.) Featured on finale episode of premiering season.
NBC News' 'Chick Chat'
Fashion expert on the 'Chick Chat' portion of NBC's new program. Discussed the fashion / happenings / environment of 2012 New York Fashion Week – and the upcoming trends of Spring 2013!
Time Warner Cable's 'Around Carolina'
One of two North Carolina designers to be featured in a documentary aired on Time Warner Cable's show 'Around Carolina.'
Fox News
Interviewed on my fashion reality here in the southeast,
Charleston Fashion Week "Success Story"
CFW has launched several recognized and televised fashion designers. One of them is Marie Cordella.
"Influential Alumna" from NCSU
Marie has been documented in numerous documentaries, videos, lectures and other publications (including Annual Reports) as an "influential force" at NCSU's College of Design. She speaks, juries, judges and critiques frequently at the University.
Charleston Fashion Week
One of sixteen East Coast designers chosen to showcase in Charleston Fashion Week's noted 'Emerging Designer East Competition.' Designed and created twelve high-style dresses to exhibit in front of a jury of industry leaders. Head-lined show.
Store Visual Designer, Nordstrom
On-location: Pulled clothing and styled all mannequins, visual displays and merchandise oriented visuals for men's, children's and cosmetics departments. Designed, produced and/or selected store visual cues including: floor and window lighting, concept furniture, etc.. Organizing and producing stylish greenrooms for events and guest appearances. Working with department managers to create compelling and sales-appropriate merchandising.
Off-location: documenting work for weekly/monthly styling calls with lead design group. Communicating with counterparts to share techniques and create in-store branding unity. Working with teams from around the country to re-model older stores and set-up new stores.
Artist Residency Program, East Carolina University, North Carolina, 2008
Two part residency featuring noted designers who are influential in the Southeast. Lectured on my personal history as a designer and the general history of fashion and trending. Discussed creative inspiration and trust in intuition. Planned and led a day-long workshop with the Master's Fiber Arts students. Covered the basics of sewing and utilization of basic means to create high-end products.
Regional Emerging Artist, Artspace, North Carolina, 2008
Awarded six-month residency at Artspace, in Downtown Raleigh. Spent six months creating a collection of sculptural and high-style gowns in the free, publicly visible studio I was provided with. Created in an open-door studio daily, talked at a selections of colleges, universities and elementary level schools. Hosted and led workshops on sewing, textiles and aesthetics.
Instructor, NCSU, 2007
College of Design, Digital Imaging and Creative Strategies, ID 215. Taught basic understanding of tools and program usage in Photoshop, Illustrator, Macromedia Flash and Dreamweaver. Expanded learning of digital illustration with use of tablet and Syntique. Familiarized students with aesthetics and design engineering in product architecture.
Master's Level Teaching Assistant, NCSU, 2005 & 2006
College of Design, ID Ideation 315 & ID Studio 500. Developed curriculum and lesson plans, assigned projects and homework, critiqued student work, helped students develop appropriate skills and vocabulary for layout design. Introduced digital illustration techniques. Guest lecturer in graduate and undergraduate courses on topics including: graphic design, creative flow, intuition in design, information mapping and hierarchy.
---
copyright Marie Cordella 2021